How to buy tickets:
The promoter of "Boogie Brain" International Music Festival Szczecin 2008 offers several ways to buy tickets for the event:
order tickets online on Boogie Brain website (electronic ticket)
order tickets online on Ticketpro
buy tickets at hundreds of Ticketpro sale offices (check, where to buy)
buy ticket in festival office (Szczecin, Bogusława Street No. 48)
buy tickets on door sale
Ticket price:
- 2-days pass: 50 PLN (17 EUR) (door sale 70 PLN (23 EUR))
- 1-day ticket: 30 PLN (10 EUR) (door sale 40 PLN (13 EUR))
Important information:
The events which take place in The Open Air Theatre on the 22nd and 23rd of August are charged. The event which takes place at Jasne Blonia Park on the 23rd of August from midday to 7:30 p.m. is free of charge.
Each ticket is exchanged for the wristband at the doors. The wristband entitles to stay at the festival site. The wristband cannot be given to another person. Destroying or taking it off is equal with losing the right for staying at the site.
The purchased tickets cannot be exchanged or given back.
The children under 8 are free of charge.
The youngsters up to 18 can stay at the site only when with adults.
CD for free
The first five hundred buyers get the great compilation "Boogiebrain Vol.1: Boogieshapes", which is the official compilation of the festival. Be quick because it is strictly limited.
You can get your cd in our festival office (Pasaz Boguslawa 48, Szczecin) from 28th of July (just show your ticket), or at the doors of the event while exchanging for the wristband.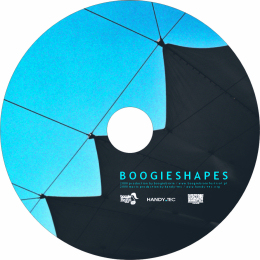 "Boogie Brain Vol.1: Boogieshapes" is the cooperation between Boogie Brain and Szczecin net-label Handy-Tec. Handy-Tec was created last year by Skorutec. The artist involved into project produce mainly tech-house. On this compilation you can listen to the producers who were responsible for the material on the previous Handy-Tec compilation called "Shapes". You can find there among others: Offpop (Typical Rec. / Traum Rec.), cooperation between Jerson & Michael Modoolar – The Saturday Smokers (Novaforma / Imax), Playground Group (Thirtyonetwenty Rec.), Legz (Twistedlegz), Skorutec (Handy-Tec / Novaforma), the duo Flexibility and the tracks by the new producers from Handy-Tec: Matthew Ross (Twistedlegz), known for his cooperation with Dubai Quartet – Remeeq'a (Novaforma), Tyu. Tere is also a bonus track by Dj Twister. "BoogieShapes" is a summer, deep-house production by the artists you can listen to at the festival: Jerry, Offpop, dj Twister.
Boogie Brain Vol.1: Boogieshapes Tracklist:
01. Matthew Ross - 9th floor II
02. Remeeq - Digital Painter
03. OffPop - Goodbye mr Prond
04. Jerson - Time
05. Flexibility - Cotangens
06. The Saturday Smokers - Marriet
07. Playground Group - Chickenretro
08. Legz - 5am
09. Matthew Ross - Abandon Mind
10. Skorutec - Musictherapy
11. Tyu - 3sisters
12. Legz - Smoke
13. Dj Twister - Gimme Dat Stuff ( listen on Boogie Brain MySpace Profile)